KinderWorld Education Group
The KinderWorld Education Group was founded in 1986 in Singapore. KinderWorld currently offers educational levels from Kindergarten to University Foundation and also offers a broad range of educational services from Certificates, Diplomas and up to Degrees in professional training.
KinderWorld is a global educational institution where students are immersed in multi-cultural, English teaching and learning environments. In combination with rigorous and high level educational opportunities, facilitated by well qualified staff, our schools offer life changing experiences which foster the development of young world citizens.
Our first pre-school centre was inaugurated in Singapore and to-date, the KinderWorld Group has grown extensively with 15 established schools operating under the brand; Singapore International School (SIS) and KinderWorld International Kindergarten (KIK) in Vietnam.
The Group is also simultaneously expanding its network of schools and colleges into various countries, including Australia, the US, Laos, Cambodia, Vietnam and especially in Malaysia is the International School by Pegasus Education Group (Malaysia), a subsidiary of KinderWorld Education Group (Singapore).
Find out more on our other schools.
UniWorld International School
UniWorld International School is located centrally and conveniently within the business precinct of Bandar Seri Alam. The purpose-built international school will spread over 10.35 acres of land with a built up area of approximately 260,000 square feet. The international school will eventually comprise a Kindergarten, Primary School, High School, Vocational College, a multi-purpose hall, a swimming pool, a full sized football field, a hostel for 300 students and other facilities.
The facility when fully developed can accommodate a total student capacity of 2,500 students and provide accommodation for 300 students. We have commenced the delivery of our educational services since January 2013 through the completion of Phase 1 for 550 students.
Phase 1: Block A, Playground, Multi-purpose Court & Field
Phase 2: Swimming Pool & Football Field
Phase 3: Pegasus College
Phase 4: Block B
Phase 5: Block C & Multi-purpose Hall
Phase 6: Block D, Playground & Hostel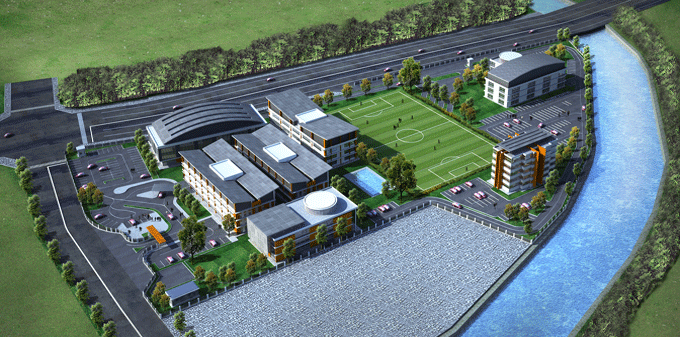 UniWorld International School will be a state-of-the-art-institution with modern facilities and technology that offers a Singapore international curriculum combining the best of Eastern values with an international outlook on education.
Our curriculum will cover Kindergarten up to University Foundation Programme culminating in international examinations such as the iPSLE (Singapore International Primary School Examination), IGCSE (International General Certificate of Secondary Education), Cambridge International AS/A Level Certificate and University Foundation Programme – GAC (Global Assessment Certificate) / ACT (American College Test).